'What is one phonics resource you can't do without?' – I imagine we would all have a variety of different answers, maybe ranging from books to computers to reading software and the like. (In fact that has got me wondering – What is the one phonics resource you can't do without? – Scroll down to see what others have said.) The truth is we as parents and teachers put so much confidence in resources that provide entertainment, we fail to see the best resource we have is right in front of our faces! I am about to tell you what I think the two most powerful phonics resources are – and the most amazing thing is – you already own them!!
Top Two Phonics Resources:
(according to Jane.)
Using a Mirror to teach phonics sounds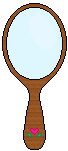 Ha! I told you the best phonic resource was right in front of our faces! How can a mirror help you teach your child phonics sounds?
We teach best when we model phonics sounds. Have your children watch your mouth & tongue position when you model sounds. Are your lips open or closed? Where is your tongue positioned?
First model the sound, let your child watch your lips/tongue position closely and then give them a mirror to copy. This will help give them a 'visual' clue as well as using their ears. Often, the use of a mirror in teaching phonics sounds speeds up the process of children being able to copy the correct sounds. Try it and see!
 Use a mirror to model phonics sounds
Model how you make a phonics sound. Let your child observe your tongue and lip positions.
In the example above my daughter is modelling the 'long /a/' sound
Notice her tongue is behind the bottom front teeth
Using the Kitchen Table to teach your lessons
Yes, the humble kitchen table. Probably the most important teaching tool of all. Why is it so important? Because although most of the flashy reading programs and games do a great job at entertaining our children, many fail at actually teaching them how to read.
Benefits of the kitchen table:
Where real learning takes place.
Only requires 10 mins of use per day!
For two or more players – usually up to 6 or 8
Gives instant feedback on lessons being taught
Provides valuable interaction between parent and child
Comes in all shapes and sizes and each model is as good as the latest one!
Rarely wears out – wish I could say the same about the teacher!
Where memories are made! Memories provide good learning and recall skills Don't get me wrong, I am the first to admit I have spent a fortune (literally!!) on all the latest reading games and gadgets and most of them are great – but it is around the kitchen table as we play the phonics board and card games, where the real learning takes.
Teaching Phonics Tips
What Other Visitors Have Said
Click below to see contributions from other visitors to this page…
Close watch of the mouth and face
The best way for a child to understand phonics is asking the child to come close to your face and watch your mouth move when making sounds. This will also …